In spite of what it says in MSKB article 929826, and in spite of what I wrote in a previous blog article, it is possible to activate Windows 7 Enterprise through the GUI. In fact it's quick and simple.
The problem is, when you first install Windows Enterprise, it doesn't prompt for a product key. And when it later tells you to activate, if you click on that link, it will tell you it can't activate. Eventually you'll come back to the need to enter your Windows 7 MAK key. Here's how to do that in the GUI:
1. Right-click on Computer and select Properties. This opens Control Panel > System and Security > System. Scroll down to the bottom of the Window and you'll see your activation status. Click on Change Product Key.

2. A nice window pops up asking you to enter the product key. Do that, click Next, and Windows immediately starts to activate.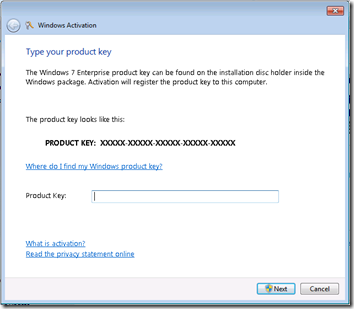 3. Done! Windows is activated and the Genuine logo appears to the right.