I'm migrating file services from a 32-bit Windows Server 2003 R2 machine to a Windows Server 2008 R2 machine. Following Microsoft Technet guide File Services Migration Guide, I installed the Windows Server Migration Tools on the source and destination servers, and I am attempting to use Send-SmigServerData to transfer folders.
Unfortunately, after I provide the password to Send-SmigServerData, nothing happens. The troubleshooting guide didn't help.
When I tried to kill the PowerShell session on the source to start over, the server became very slow. When I checked Task Manager, I found wmiprvse.exe was running 95% or more. Killing that process gave me the server back. (wmiprvse is the Windows Management Instrumentation Provider Service, aka the WMI Provider Service.)
I noticed that wmiprvse starts up as soon as you provide the password to Send-SmigSeverData, hovering around 50% CPU: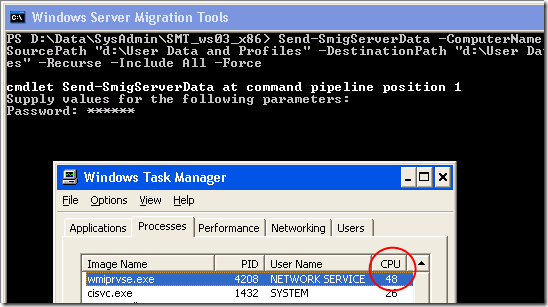 It was then by accident that I discovered that if I kill wmiprvse.exe while Send-SmigServerData is running, the PowerShell cmdlet actually continues and the files are transferred successfully. Further trial and error showed that if I killed wmiprvse too fast, the applet will fail as if there were a syntax error (see red text below), but if I gave wmiprvse a while (maybe a minute) and then killed it, the applet executed, as shown when the blue and yellow progress bar appeared: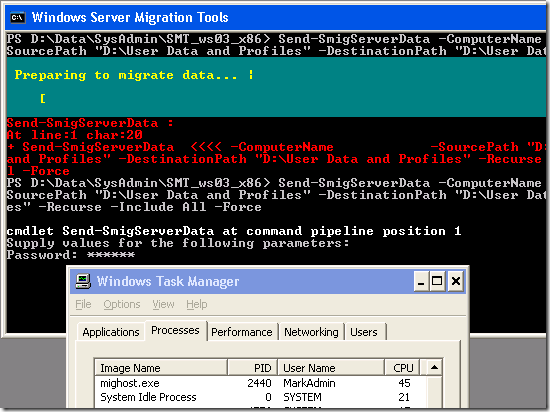 I don't know if the wmiprvse issue is in my environment or in the Server Migration Tools, but I found myself wondering whether RoboCopy wouldn't have done just as good a job in copying the files.