It's infuriating when something you've done for years in Office 2003 suddenly seems impossible in Office 2007. Case in point:  changing the background of a single PowerPoint slide.
It seems logical that you could go to the Design tab in the ribbon bar and choose a different Background Style. But that changes the whole presentation!
The trick is to click on the little arrow in the lower right corner of the Background section:

That brings up the Format Background dialog, where you can click on the Color button to choose the new color, then click on Close: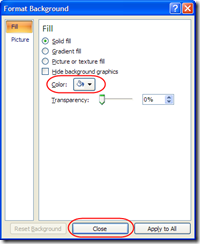 Office 2007 Tip Look for that little arrow in the lower right corner of various menu bar sections. When available, it usually opens the most detailed options (often similar to the Office 2003 choices).