I've been running PBX in a Flash under the free version of Microsoft Hyper-V Server 2008 R2 for several months (blogged earlier). This week, I've added a couple test machines to the Hyper-V server.
Today I came in to see monitoring emails telling me that PBX had gone off- and online several times overnight. Sure enough, when I pick up the phone: no dial tone. What happened?
I logged on to the Hyper-V host and started Core Configurator 2.0 and was a little alarmed to see that my PBX isn't even listed as a virtual machine at all: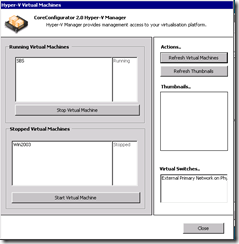 What? The PBX has disappeared entirely? Fortunately I also have Hyper-V Manager set up on a Windows 7 machine. This gave me the more complete picture: the PBX, and a Vista Business test machine, were in a "Paused" state:

Lost in Space
Next I fired up Server Manager, attached to the Hyper-V host, and started wading through the Hyper-V logs. Finally I found what I was looking for under
Applications and Services Logs > Microsoft > Windows > Hyper-V-VMMS > Admin
where I saw this event:
Log Name: Microsoft-Windows-Hyper-V-VMMS-Admin
Source: Microsoft-Windows-Hyper-V-VMMS
Date: 6/18/2010 4:15:52 AM
Event ID: 16060
Level: Error
User: SYSTEM
Computer: HYPERVSERVER01
Description: 'PBX' has been paused because it has run out of disk space on 'D:\Virtual Machines\pbx\Virtual Hard Disks\'. (Virtual machine ID 8FD97E3F-90A2-45B6-8A35-58C1EEBA8B3C)
Sure enough, drive D was full. That Vista Business test machine had expanded its drive overnight during auto-updates. I moved some VHDs to another drive and was able to get the PBX running again. What I don't fully understand is why the PBX, which has a fixed-size VHD, was paused due to space issues on the host volume.
Core Configurator Limitations
Looking more closely at the Core Configurator, I see that it only shows Running and Stopped Virtual Machines, so Paused machines are not included. It would be nice if that bottom window would show Paused and Stopped Virtual Machines.
In the same dialog, I also noticed that Core Configurator only lists one Network Switch, even though I have two installed, as seen in Hyper-V Manager: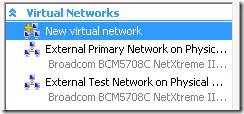 I assume Core Configurator is not showing the second switch because I have unchecked "Allow management operating system to share this network adapter". Again it would be nice to see the same information in Core Configurator as shown in Hyper-V Manager.
Core Configurator adds a wealth of features that would otherwise be very difficult to access on a Hyper-V Server machine. But you'll still need a remote management machine running Hyper-V Manager to get the complete picture of the virtual machines, and remote Server Manager to see the host's event logs.