I recently installed Windows 7 Enterprise (32-bit RTM) on a laptop that had previously run Vista. While I'm liking Windows 7 much better than Vista, it was quite a challenge using /connectcomputer to get it into my SBS 2003 domain. The Official SBS Blog has a brief post advising one to install hotfix 926505, which I had already done for Vista. That, however, was not enough. Here's what I learned.
DNS Issues
I should mention first that I run SBS 2003 Premium but without ISA and
with a single NIC. DHCP is provided by an external router. It's likely that this somewhat nonstandard approach is the cause of this first issue.
After typing http://mysbsserver/connectcomputer into IE8, The first error I encountered was "The server that is running Windows SBS 2003 cannot be found":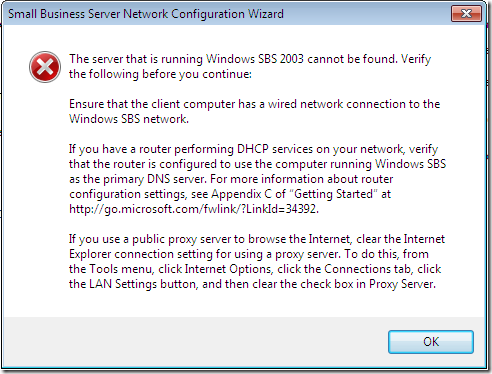 This message is somewhat misleading. I do use a router to provide DNS, but a quick IPCONFIG /ALL confirmed that the router was correctly configured to put the SBS server as the first DNS server.
Eventually I tried NSLOOKUP mysbsserver. That correctly used the SBS server as the DNS source, but it could not resolve the name "mysbsserver".
I wondered if the issue was that it didn't know the domain suffix. I went into the adapter settings of the Windows 7 computer and added mydomain.local as a hard-coded suffix. After that, NSLOOKUP worked correctly, and I progressed to a different /connectcomputer error.
Lesson 1:  Try manually configuring the suffix in the Windows 7 adapter settings. (Perhaps this is an additional requirement when using an external router as the DHCP server?)
Cannot Copy Client Files
Once I got past the DNS issue, the /connectcomputer process gave me a different error:  "An error occurred while trying to copy the Client Setup files." It went on to say that if I do not have a proxy (which I don't), the administrator must reinstall the Client Deployment component on the server from Add/Remove Programs. However, on the server, C:\ClientApps is shared and contains lots of (mostly old) programs. Is a reinstallation really necessary?
Microsoft Partner Support advised me that this issue can occur when SSL is enabled on the SBS server's Default Web Site, under connectcomputer. They had me go in to IIS Manager and uncheck "Require secure channel (SSL)". Sure enough, once SSL was disabled, /connectcomputer was able to run the full wizard. I'm not sure why SSL was enabled, as according to this article provided by MS Support, it is not enabled by default. (Another setting only allows access from IP addresses on the LAN, so the lack of SSL should not be an issue.)
Lesson 2:  Check the SSL setting on IIS server.