Mark Berry December 31, 2016
In GoldMine 2015.2.0.208, I was having trouble getting the Preview Pane to stay hidden on the Pending tab. Also, the column widths kept reverting to some default and the Filter kept showing as active although I wasn't filtering for anything.
More...
Mark Berry April 7, 2016
When rehosting GoldMine from version 6.7 to 9.0.0.102 (a required intermediate step on the way to a later version), the rehost process inserts the string "NULL" into the Notes of history and calendar records that should be empty: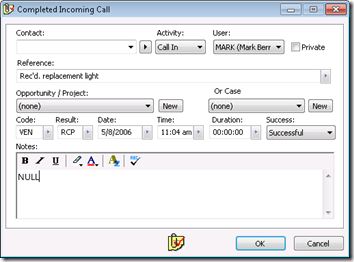 This fairly minor issue can be corrected with some SQL search and replace commands.
More...
Mark Berry April 7, 2016
I just installed GoldMine 2015 and I must say I'm liking GoldMine Web. The ability to access GoldMine records from any browser, including a smartphone? Awesome.
I was a little lost, though, when I couldn't find a way to adjust the contact search:  it always does a "Begins with" search by Contact and Company. Can't remember the first name of that Petersen guy? Too bad: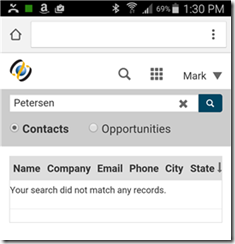 But wait: GoldMine uses standard Microsoft SQL. That means the SQL wildcard should work. The wildcard is a percent sign (%). Search for %Petersen to find contacts containing the string "Petersen":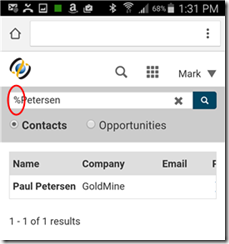 By the way, this works for partial company names too. Want to find all companies containing the word "church"? Search for %church.
More...
Mark Berry February 4, 2016
MCB Systems is pleased to announced that its CRM telephony integration product, MCB GoldLink to 3CX, is now compatible with the latest 3CX version 14.
3CX 14 uses a new version of 3CXPhone for Windows as both a softphone and to provide presence information, call logs, and other feature formerly provided by 3CX MyPhone.
MCB Systems has developed a 3CXPhone add-on called the 3CX Command Line API Plugin that allows 3CXPhone to "talk" to GoldLink. The plugin is included with GoldLink version 4 and is automatically installed and configured when you install GoldLink.
For complete information about MCB GoldLink to 3CX, visit the product page, where you can download a fully-functional 30-day trial. Existing customers can upgrade to GoldLink 4 at a discounted price.
More...
Mark Berry January 3, 2013
The GoldMine CRM system has a powerful synchronization capability sends changed data to remote sites. But what if you need to review changes on your local machine?
More...
Mark Berry January 3, 2013
In the process of upgrading from GoldMine 6.7 to 9.2, I discovered that Detail names longer than 20 characters were cut off. The UI seems to be inserting the comment delimiter (//) in Detail headers.
More...
Mark Berry January 3, 2013
Recently I upgraded from GoldMine 6.7 to 9.2.1.92. I have a filter defined that I use when syncing to Outlook. The filter count shows 1184 records, but it actually syncs 1544 records. What gives?
More...
Mark Berry December 18, 2012
I'm in the process of upgrading from GoldMine 6.5 to 9.2.1.92. I really don't want to give up the super-fast keyboard access to the search function. For example, in GoldMine 6.5, to search for a contact by last name, I press Alt+L, L (open the Lookup menu and search by Last name). Three keystrokes and and I'm in the search window.
More...