Mark Berry December 31, 2016
In GoldMine 2015.2.0.208, I was having trouble getting the Preview Pane to stay hidden on the Pending tab. Also, the column widths kept reverting to some default and the Filter kept showing as active although I wasn't filtering for anything.
More...
Mark Berry April 7, 2016
When rehosting GoldMine from version 6.7 to 9.0.0.102 (a required intermediate step on the way to a later version), the rehost process inserts the string "NULL" into the Notes of history and calendar records that should be empty: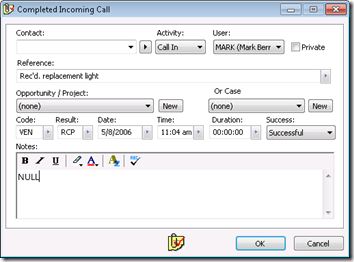 This fairly minor issue can be corrected with some SQL search and replace commands.
More...
Mark Berry April 7, 2016
I just installed GoldMine 2015 and I must say I'm liking GoldMine Web. The ability to access GoldMine records from any browser, including a smartphone? Awesome.
I was a little lost, though, when I couldn't find a way to adjust the contact search:  it always does a "Begins with" search by Contact and Company. Can't remember the first name of that Petersen guy? Too bad: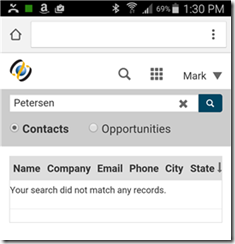 But wait: GoldMine uses standard Microsoft SQL. That means the SQL wildcard should work. The wildcard is a percent sign (%). Search for %Petersen to find contacts containing the string "Petersen":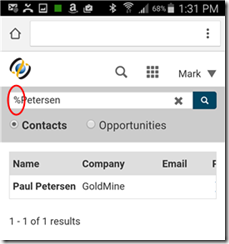 By the way, this works for partial company names too. Want to find all companies containing the word "church"? Search for %church.
More...