Mark Berry April 12, 2017
I maintain a client-server database app written in VB6 that uses ADO and COM+/DCOM. After installing the "April, 2017 Security Monthly Quality Rollup," the VB6 app crashes in msado15.dll and ntdll.dll when trying to write to to the database. Uninstalling the update restores full write functionality. This is verified on Windows 7 x86 and Windows 8.1 x64. The issue is also present in Windows 10 x64 but I'm not testing that further.
Let me know if you encounter a similar issue and if you find a solution!
More...
Mark Berry June 19, 2015
I'm trying to debug an issue with Passenger Standalone 4.0.53 and had a hard time figuring out how to increase the log level. It turns out you have to create a custom Nginx configuration file, then reference it when you start Passenger.
More...
Mark Berry March 5, 2015
With huge thanks to this post by Daniel Viklund, I want to share some notes and code about how I am managing delayed_job on a Rails 3.2.16 app deployed on AWS Elastic Beanstalk.
More...
Mark Berry October 14, 2014
On a Server 2012 R2 machine, I couldn't figure out why WiniInit.exe, which loads at Windows startup, was using port 5000, which I wanted to use for an application. My understanding, e.g. from this thread, was that WinInit was supposed to use the first dynamic port. And this machine has the standard dynamic range starting at 49152:
C:\>netsh int ipv4 show dynamicport tcp
Protocol tcp Dynamic Port Range
———————————
Start Port      : 49152
Number of Ports : 16348
More...
Mark Berry September 29, 2014
I maintain a legacy application running on SQL 2000 under Server 2003. I'm migrating my VB6 development environment from XP to 64-bin Windows 8.1. I wanted to continue using SQL Management Utilities from the new dev machine.
More...
Mark Berry June 13, 2014
Working on an AWS Elastic Beanstalk deployment, I'm using a .config file in my project's .ebextensions folder to create and upload a file (see the Development Duide). The deployment fails with this message:
Error occurred during build: invalid literal for int() with base 8: '493'
More...
Mark Berry May 27, 2014
A few quick notes on connecting to a Postgres database running on an Amazon EC2 instance using pgAdmin with its built-in SSH tunneling option.
More...
Mark Berry September 24, 2013
I post most of my development questions and answers on StackOverflow, where you get points if people like your posts. Woohoo, I just hit 2000 points!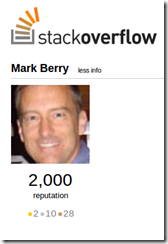 All this means is that I am now allowed to edit other people's posts. You'd think they would send me a T-shirt or something, haha.
More...