Mark Berry September 29, 2010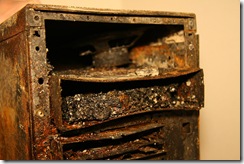 Computer backup is an insurance plan for your data. Like any other insurance, it's hard to think about when everything is going great, but you sure are glad it's there when you need it.
Also like insurance, there are lots of factors to consider and lots of potential solutions.
So why do you need backup, exactly? And what kind of backup do you need?
More...
Mark Berry September 28, 2010
In the last few weeks the personal accounts of at least four of my acquaintances have been hacked. As you may have experienced, when your friend's account is hacked, you start getting emails that appear to be from them, but which actually contain some kind of spam.
More...
Mark Berry June 23, 2010
You may have learned the hard way that if you open a distribution list in Outlook 2007, highlight one contact, and click on Delete, the entire distribution list is deleted!
The trick is to click on Remove instead of Delete in the distribution list ribbon bar:

Tip: if you do accidentally delete the entire distribution list, check you Deleted Items folder. If you've already cleared your Deleted Items contact MCB Systems. We may be able to restore the distribution list from a backup.
More...