Mark Berry December 4, 2016
Windows 7 updating will take forever on a fresh install or if you haven't updated in a while. This is covered in many online articles but I'm needing it often enough that I wanted to make a couple notes for future reference.
More...
Mark Berry December 14, 2015
If you can log on as a user, you can run
echo %UserProfile%
to get the correct profile path. But if you are logged on as another user, or even across the network, here is the down-and-dirty way to get the same info.
1. List domain users and their SIDS, from an administrative command prompt:
wmic useraccount get domain,name,sid
2. Open this registry key to see the list of profiles on the machine:
HKEY_LOCAL_MACHINE\SOFTWARE\Microsoft\Windows NT\CurrentVersion\ProfileList
3. Look for the key under ProfileList that matches the SID. Then in that key, look for the ProfileImagePath value. This gives the path to the local profile.
More...
Mark Berry November 26, 2015
I was setting up a new Lenovo M93p desktop using the OEM install of Windows 7 Pro x64. After joining the computer to a domain, as soon as I tried to connect to it via Remote Desktop, before even getting to the logon screen, I got the popup message:
This computer can't connect to the remote computer. Try connecting again. If the problem continues, contact the owner of the remote computer or your network administrator.
More...
Mark Berry January 31, 2015
On my Windows 7 SP1 x64 workstation, I had a svchost.exe process that kept growing in size. In Task Manager its Commit Size was up to 2.5GB before I rebooted. I was shopping for additional RAM but then decided to see if I figure out if it was a software issue.
The problem with svchost.exe is that it can host multiple services. How do you know which one is the problem?
More...
Mark Berry November 8, 2013
Every so often, my system tray icons lose their pictures, usually because the server that they point to was offline for a while. Then I have to go hunting for the solution, even the one I posted on SuperUser. Here it is for future reference.
Open Windows Explorer, go to %userprofile%\AppData\Local, delete IconCache.db.

Open Task Manager, go to Processes tab, highlight explorer.exe, and click End Process. Your desktop will "disappear."

Still in Task Manger, select File > New Task (Run…), type explorer.exe, and click OK. Your desktop should reappear, with the previously missing icons.
More...
Mark Berry January 15, 2013
My Windows 7 desktop was showing red X's next to each mapped network drive. Clicking on the drive let me browse the files, but the Red X remained.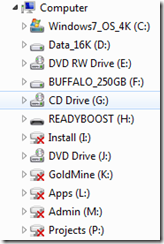 More...
Mark Berry June 18, 2011
A few months back, I purchased a Lenovo ThinkPad Edge running Windows 7 Professional 64-bit. From the beginning, I had frequent issues with applications crashing due to lost connections to the server.
More...
Mark Berry October 25, 2010
In spite of what it says in MSKB article 929826, and in spite of what I wrote in a previous blog article, it is possible to activate Windows 7 Enterprise through the GUI. In fact it's quick and simple.
More...