Mark Berry December 10, 2016
If you've been using the free version of Malwarebytes 2 as an on-demand anti-virus scanner and you upgrade to version 3, you may be surprised by warnings that real-time protection is turned off: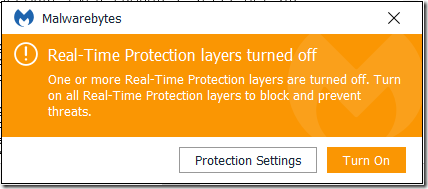 It seems that Malwarebytes has discontinued the free-only version and now always starts with a 14-day trial of the Premium version. As explained on this page, after the trial expires, the program reverts to a manual scanner: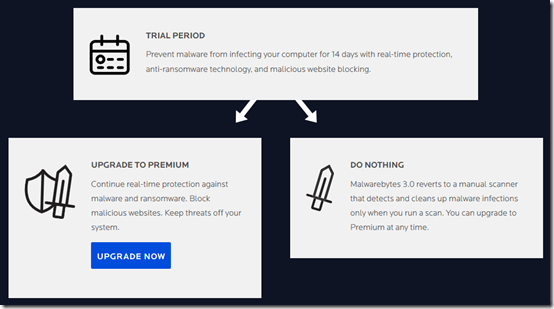 So if you want to play with the premium features like real-time protection, you can turn that on, or you can just ignore the popups for a couple weeks and you'll be back to the manual scanner.
Malwarebytes has been a great second-chance scanner and the additional features in the Premium version may well be worth the subscription fee. This unexpected trial is causing some confusion though.
More...
Mark Berry November 14, 2016
This is a very instructive nightmare:
More...
Mark Berry February 24, 2016
Mom called. She had done an Internet search using Internet Explorer 11 and wound up with this in her browser: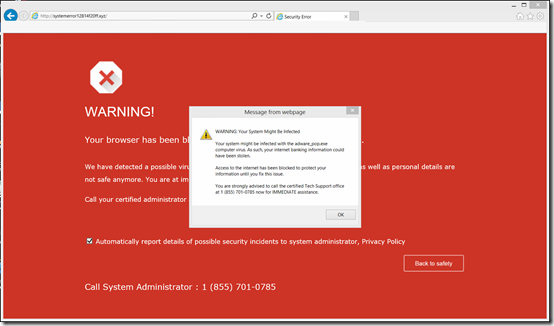 More...
Mark Berry November 19, 2014
You may have heard of a resurgence of the CyptoLocker/CryptoWall ransmomware viruses.  These make me nervous because they can actually encrypt the files on your drive, making them unreadable and unusable.  The crooks then demand that you pay $500 – $1500 to recover your files. If you see a screen like this, your computer has probably been infected:
More...
Mark Berry April 21, 2013
Tonight my mom was browsing her local utility's web site when she got a popup "Message from webpage" that Microsoft Antivirus had found critical activity A "Microsoft Security Essentials Alert" was behind that.
My smart mom put down the mouse, picked up the phone, and called me. When I connected remotely, I found this screen: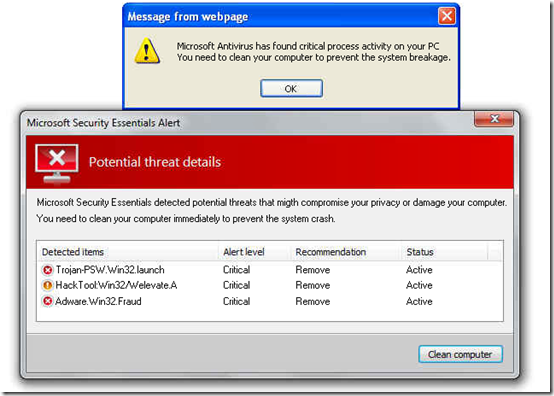 More...
Mark Berry April 8, 2013
I don't come across Secure MIME (S/MIME) signed emails very often so I thought it might be interesting to post a few screenshots of what happens when you receive a signed email.
More...
Mark Berry December 4, 2012
It seems that fake notification emails from social networking sites are the #1 way that spammers and virus writers try to lure you to their sites. Here's an example of a fake Facebook notification email and how to tell: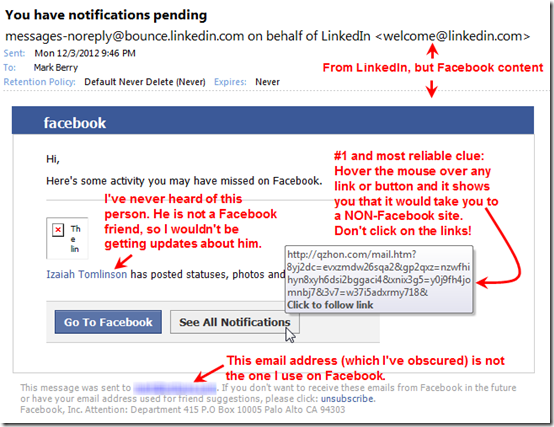 More...
Mark Berry August 2, 2012
Got a pretty realistic-looking AT&T billing notice this morning. So how to tell it's phony? Well beside the fact that I've never had a $634 phone bill, all you have to do (if you're using Outlook) is hover the mouse over various links in the email and you'll see that they do not point to AT&T sites.
Don't click on the links, and don't right-click to download pictures.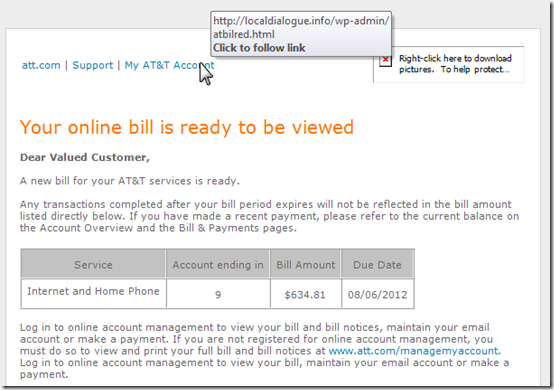 More...