Mark Berry February 13, 2017
When the Azure Backup Agent program says an update is ready, it will provide a link. Today, the link points to http://go.microsoft.com/fwlink/p/?LinkId=229525, which redirects to KB3196148, which is the October 2016 update that we are already running.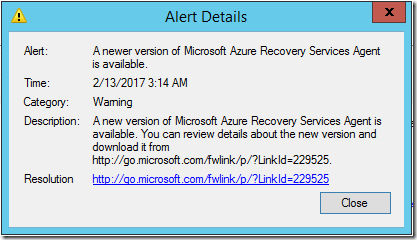 To find the correct update, search for "Azure Backup Update for Microsoft Azure Recovery Services Agent" and look for recent articles. Recent updates are not shown when searching Microsoft Support or with Bing, but Google led me to the January 2017 update, KB3216528.